​Drunk Driving Accident Lawyers in Austin, Texas
Are you suffering from painful injuries and struggling to make ends meet after an accident with a drunk driver on I-35, Lamar Boulevard, or the MoPac Expressway in Austin?
The physical, emotional, and financial consequences of a drunk driving accident are often devastating, but there's no reason for you to suffer in silence. You deserve monetary compensation for the hardship you have endured, and an experienced Austin drunk driving accident lawyer can help you get it.
At Fletcher Law Office, our Austin drunk driving accident attorneys can stand up for your rights and demand the money you need to get back on your feet. We have recovered millions of dollars for clients like you, including a recent $250,000 settlement for a drunk driving accident injury victim.
Don't let a drunk driver get away with ruining your life. Get help from Fletcher Law Office. Contact our firm now to get started with a free initial case review.
Why Choose Fletcher Law Office?
As a drunk driving accident victim, you're already dealing with severe pain, costly medical needs, and lost income. The last thing you need right now is more stress. You deserve strong legal representation from an attorney who will look out for your best interests. That's why you should choose Fletcher Law Office for your injury case.
The local lawyers at Fletcher Law Office have extensive experience handling all types of personal injury claims, including a high number of drunk driving accident claims. We know how hard it is to recover from a catastrophic event like a drunk driving wreck, and we're here to help you every step of the way. Let us deal with the messy legal details while you heal from your injuries.
Our attorneys make it a point to provide personalized attention to every client we serve. We understand that you're going through a hard time, so we take the time to listen to your story and craft intelligent solutions that fit your needs. We will handle the insurance companies, take care of the paperwork, and negotiate aggressively on your behalf.
We have an easily accessible office location in downtown Austin, right near the Capitol building. When you're ready to speak with us about your case, feel free to drop by in person for your complimentary case review. And if you're too hurt or busy to come to us, we're happy to speak with you either by phone call or video chat at your convenience.
In addition to free consultations, we offer our services on a no-win, no-fee basis, meaning you pay nothing unless we get you money for your claim. There's no risk to you, so don't hesitate to contact us to get started with your consultation session.
<iframe width="200" height="113" src="https://www.youtube.com/embed/7SNQ9sIdEfg?feature=oembed" frameborder="0" allow="accelerometer; autoplay; clipboard-write; encrypted-media; gyroscope; picture-in-picture; web-share" allowfullscreen title="FLETCHER LAW | HASSLE | 30 SEC TV SPOT | PATRICK MARKETING"></iframe>
Compensation for Drunk Driving Accident Claims
The amount of money you can get for a drunk driving accident claim will vary depending on the severity of your injuries, the types of insurance coverage available, and several other factors.
When you file a drunk driving accident claim with the help of an attorney, you can seek compensation for:
Hospital bills and other medical expenses from accident-related injuries
The costs of medical care you will likely need in the future due to the crash
Incidental expenses, such as travel costs for going to medical appointments
Lost wages or income from any time you miss at work while you recover
Losses in your lifetime earning capacity due to permanent crash-related injuries
Subjective losses, such as pain, suffering, and reduced quality of life
In rare circumstances, you could also claim money in the form of punitive damages, also called exemplary damages, in Texas. Punitive damages are a type of compensation available in personal injury lawsuits involving at-fault parties whose behavior is especially reckless or malicious. Judges award punitive damages to punish at-fault parties for their actions and discourage other people from acting similarly in the future.
Punitive damages are not available in most injury cases. Still, a judge might order a drunk driver to pay punitive damages if their actions were particularly heinous. Such actions could include the driver getting behind the wheel with a blood alcohol concentration (BAC) twice the legal limit or engaging in other dangerous behaviors, such as running red lights or exceeding the speed limit.
A personal injury lawyer can help you understand your options, including whether you have grounds to claim punitive damages.
Austin Drunk Driving Accident Facts and Statistics
Drunk driving accidents are a huge problem in America, and the problem is especially bad here in Austin. Our city is home to throngs of college students and a thriving nightlife scene, with countless bars, clubs, and music venues nearby.
Austin also hosts several popular events, such as South by Southwest (SXSW) and Austin City Limits, which draw hundreds of thousands of visitors per year. This means locals and visitors alike have plenty of opportunities to overindulge and cause drunk driving accidents.
Following are some recent, eye-opening statistics from the Texas Department of Transportation (TxDOT):
In one recent year, 936 fatal DUI accidents in Texas accounted for nearly one-quarter (23.1 percent) of all 4,060 fatal accidents in Texas that year.
Texas DUI accidents caused more than 9,000 possible injuries, suspected minor injuries, and suspected serious injuries.
In Austin alone, 989 total DUI crashes in one recent year resulted in 35 fatalities.
Nearly 600 Austinites sustained reported injuries in citywide DUI crashes that year.
If you get hurt in a DUI accident in Austin, the following local laws could apply:
DWI laws. Texas refers to drunk driving as driving while intoxicated (DWI) rather than driving under the influence (DUI). Drivers are guilty of DWI if they drive while intoxicated or with a BAC of 0.08 or greater.
Open container laws. Texas also prohibits driving with open containers of alcohol in the vehicle, even if you are not under the influence.
Legal time limits. All drunk driving accident claims are subject to a two-year time limit in Texas. If you wait more than two years after the drunk driving accident occurs to file a lawsuit, you could lose your right to sue.
Types of Drunk Driving Accidents and Drunk Driving Accident Injuries
Even a relatively small amount of alcohol can seriously impair driving ability, and the impairing effects get worse the more alcohol you consume.
Drunk drivers commonly cause car accidents such as:
Head on collisions. Drunk drivers can crash head on into others when they fail to yield at intersections or drift over centerlines into oncoming traffic.
Rear end accidents. Alcohol impairs depth perception and reaction time, making drunk drivers prone to colliding with the rear ends of other vehicles.
T bone accidents. Many drunk drivers cause T bone accidents when they drive head-on into the sides of other vehicles at intersections and merge zones.
Sideswipe collisions. Drunk drivers often scrape or swipe against the sides of other vehicles in sideswipe accidents when they fail to maintain a single lane.
Rollover accidents. In serious cases, drunk drivers can cause high-speed wrecks that make vehicles roll over entirely and leave occupants with severe injuries.
Many drunk driving accidents cause serious physical and emotional injuries, such as:
Head and neck injuries
Facial and dental injuries
Back and shoulder injuries
Seatbelt and airbag injuries
Abdominal and internal injuries
Dislocated or broken bones
Permanent scarring or disfigurement
Amputation or loss of limb
Bruises, lacerations, and puncture wounds
Soft tissue strains, sprains, and tears
Road rash and other burn injuries
Emotional and psychological injuries
Post-traumatic stress disorder (PTSD)
Filing an Insurance Claim After a Drunk Driving Accident
Filing an insurance claim after any car accident is a challenging process, and many drunk driving accidents involve additional complications. For example, there could be multiple liable parties in a drunk driving accident case, such as the drunk driver and the person or establishment that served them alcohol.
Additionally, drunk driving accidents often result in more severe injuries than other types of auto accidents, so the resulting injury claims are usually more expensive and harder to resolve.
When you file an insurance claim against a drunk driver, the insurance company might try to delay or deny your claim to avoid paying what you deserve. Insurance adjusters often use tactics like downplaying the severity of your crash injuries or trying to pin the blame for the accident on you. They might also pressure you to accept a quick settlement that does not fully account for your losses.
These reasons are why working with a seasoned injury lawyer is essential. The knowledgeable legal team at Fletcher Law Office can review the specifics of your drunk driving accident case and build a strong legal claim on your behalf. We can also negotiate aggressively with the insurance companies and fight for the best possible results. With our help, you can focus on recovering from your injuries while we pursue the money you need.
What to Do If You Get Hurt in a Drunk Driving Accident
It's common to feel overwhelmed and powerless after a drunk driving accident, but you can protect your rights by:
Following your doctor's order to give your body the best opportunity to heal
Attending all follow-up appointments so your doctor can monitor your progress and document everything in your official medical records
Starting a pain journal to record the details of your recovery in your own words
Gathering evidence from the drunk driving accident, such as photos of the scene, the drunk driver's contact and insurance details, and statements from witnesses
Keeping copies of important papers like medical bills, documentation of wage losses, and proof of other accident-related expenses
Watching what you say to other parties, especially the insurance companies since they could use anything you say as evidence against you
Refraining from posting photos or updates online while your case is pending
Contacting a knowledgeable drunk driving accident attorney before speaking to anyone else about your claim and bringing all the evidence you have gathered to them
Drunk Driving Accident FAQs
Here are the answers to some frequently asked questions we receive about drunk driving accident claims in Austin, Texas.
How Do You Prove a Drunk Driving Accident Claim?
The attorneys of Fletcher Law Office can conduct an independent investigation into the drunk driving accident to uncover valuable evidence, such as:
Photos and video footage of the accident scene
Video footage of the other driver consuming alcohol
Breathalyzer or blood toxicology test results
Receipts from bars, clubs, restaurants, or liquor stores
Eyewitness statements from those who saw the crash
Accident reconstruction reports from experts
Do I Still Need to Prove My Case if the Drunk Driver Got a Ticket?
Yes. Getting a ticket or facing criminal DWI charges does not automatically mean someone is liable for your injuries in a civil drunk driving accident claim. While you can use the ticket as evidence of the other driver's impairment, a ticket alone is not enough to prove a civil injury claim.
How Long Will It Take Before I Get Money From My Claim?
If you sustained relatively minor injuries in the drunk driving accident, and your claim is fairly straightforward, you could get your settlement money within a few weeks. But if your injuries are serious or your case is complex, it could take months or even longer to settle. A drunk driving accident lawyer can handle your case efficiently and get results, no matter how long it takes.
Hurt in a Drunk Driving Accident in Austin? Just Get Gage!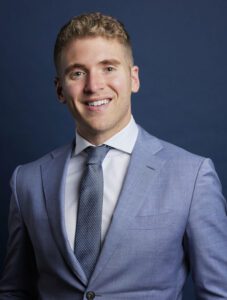 If you need help after a drunk driving accident in Austin, look no further than personal injury lawyer, Gage Fletcher, and his team of talented legal professionals. Reach out to Fletcher Law Office when you're ready for your free initial consultation session. Call us now at (512) 619-4006 or fill out our online contact form to get started.
"Gage went above and beyond to help me with my case. I would definitely recommend his services."
Ben A.